Beating the Floods Workshop - At Flood Defence Expo, 4-5th Dec 2014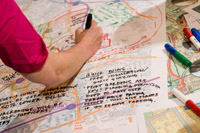 12:30 Thursday 4th December, 12:30 Friday 5th December
Visitors to the Flood Defence Expo will be able to try out flood-mitigation methods in a masterplanning workshop led by Baca, pioneers of the award-winning LifE (Long-Term Initiatives for Flood-risk Environments) Project.
As with real life, the challenge is to create a masterplan that fits all the playing pieces on the plan whilst maintaining a sense of community and ensuring it is safe. No prior experience or specific expertise is necessary and it is hoped that teams will include a broad range of people such as planners, highways and environment officers, consultants, developers and local interest groups.
At the end of the workshop, teams will be invited to present their plan, then compare and contrast against other teams. A small open debate will follow to discuss the challenges presented by the Planning Scenario and how these tools are transferrable to other sites in the UK.
To register for the workshop, please click here .
The Flood Expo has attracted some of the most forward-thinking minds in the flooding world. To attend the Flood Defence & Prevention Expo go to www.flooddefenceexpo.co.uk to register for your free ticket and show guide.
​