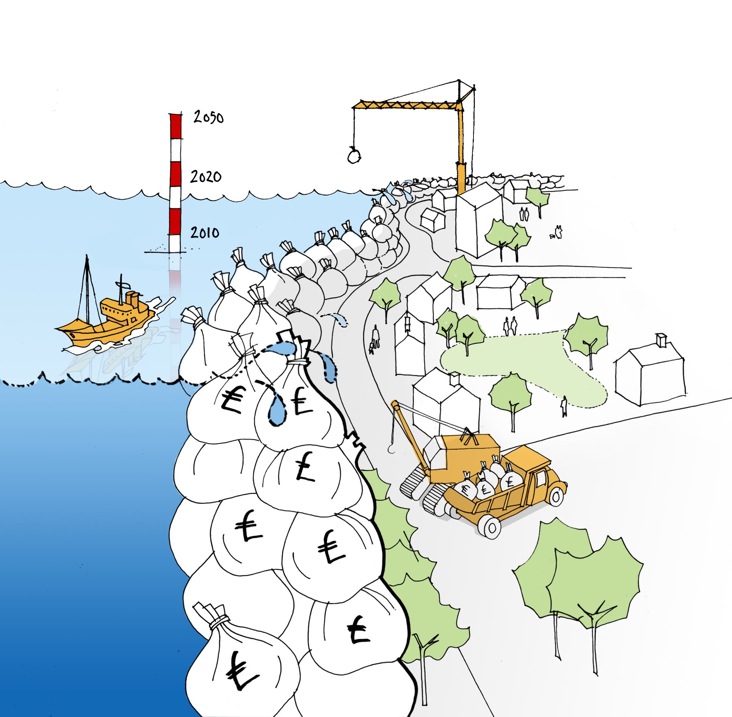 This is not the only solution
SITE 1 > The River Wandle at Hackbridge
SITE 2 > The River Nene at Peterborough
SITE 3 > The River Arun at Littlehampton
LifE
"The LifE project is the first project to integrate making space for water with zero carbon development and the principles of living with water."
The Life Project is a pioneering piece of research that was a vital step forward in the progression of flood resilient design in the UK. The project seeks solutions to enable responsible development that simultaneously reduce flood-risk and utilise the best renewable technologies. The LifE project represents a paradigm shift in thinking by allowing water onto sites in a controlled and predetermined manner. This non-defensive approach to flood-risk management reconnects us to the natural water cycle and should improve our future ability to manage and cope with floods.
LifE (Long-term Initiatives for Flood-risk Environments) is an integrated design approach to planning and building, which seeks to reduce flood-risk through sustainable design. It adopts a non-defensive approach to flood-risk management and the creation of 'space for water', as well as the highest environmental design standards.
Led by Baca Architects and BRE, The LifE Project addresses key issues at the forefront of the public consciousness: energy and the housing crisis; and tackles two of the most visible effects of climate change - rising water levels and increased flooding. It is proposed that new developments built to the LifE principles would reduce flood-risk overall, mitigate climate change, and deliver high-quality, sustainable and resilient settlements.
The LifE project received UK government funding through the Department for Food and Rural Affairs (DEFRA), Innovation Fund in 2007. An expert team sought to establish and test the LifE principles through masterplanning three sites in the UK (see Case studies). Though this work was carried out in the UK, the principles that were developed are transferable to other countries.
Fundamental to the LifE approach is a shift away from traditional flood-prevention towards a more non-defensive approach to flood-risk management. Space is made to store water, and for water to flow through predetermined parts of settlements without significant disruption to peoples lives. The space between buildings, which is designed to flood, could provide other functions, such as recreation or energy generation when not flooded; thus creating multi-functional space and integrated planning.
It proposes an integrated approach to master-planning in which innovative architecture and multi-functional landscape like floodable parks, squares and play areas as well as green roofs and walls become community assets everyday and in times of flooding these can then be called upon to provide flood storage. The costs of these are no more expensive than traditional square or village greens - forward thinking is all that is required.
The LifE Project is governed by three principles:
- Living with Water - adapting to increased flood frequency and severity
- Making Space for Water - working with natural processes to provide space for floodwater
- Zero Carbon - providing all energy needs from renewable resources on site
Case Studies
Conceptual master-plans were developed for brownfield sites in Hackbridge, Peterborough and Littlehampton, and used as case studies for the project. These were used to identify generic principles for developing responsibly in areas at risk of flooding around the UK. Since the conclusion of the LiFE research, The London Borough of Hackbridge and Littlehampton have both adopted aspects of the research, which now guide new development.
Publications
The work was published in the 'The LifE Report' by IHS, BRE press along with a condensed illustrated 'LifE Handbook'.
The LifE Report documents the findings of a new approach to flood-risk management - in which new developments are designed to 'live with water', permitting water onto sites in a controlled and predetermined manner to make space for water.
The LifE Handbook summarises the principles of the LifE approach illustrating in brief the strategies for the three study sites, offering guidance on ways in which to incorporate sustainable design and ecological flood mitigation in future development.
Awards
RIBA presidents award for Research – Winner, 2009
International Urban Design Awards – Bronze, 2010
Green Dot Award – Winner, 2010
Team
Baca Architects with Building Research Establishment (BRE)
Fulcrum Consulting
Halcrow
Cyril Sweett
LDA-Design
Book Launch
The LifE Project was launched at London's City Hall, Home of the Major of London and attended by policy makers, planners, architects, engineers and many of London's municipalities.