Uunderwater Ocean Discovery Observatory - Australia Raising Awareness for Ocean Climate Change
Baca Architects have been appointed by marine contractor, Subcon as the Lead Architects for the Australian Underwater Discovery Centre (AUCD). The commission will deliver Australia's largest natural marine observatory (2km out at sea) at the end of Busselton Jetty, 2 hours south of Perth in Western Australia. Click to view the project page on our website here Three alternatives have been drawn up for the $30 million Australian underwater discovery Centre: The Cetacean Design reflects the shape of a whale, to raise its head over Geographe Bay. The Rock is inspired In shape and colour by Castle Rock in western Australia. And the Voyage mimics The silhouette and lines of a ship moored against the pierBustleton Jetty managers will formally reveal and present the choice of designs by Henderson based Subcon: Blue solutions on Monday, and the public is being encouraged to vote for their favourite. Subcon: Blue Solutions are a marine contracting company specializing in building offshore windfarm and artificial reefs is joined by CoreMarine Engineering; the team that delivered Snoetta's "under" restaurant.But what ever appears on the surface, underneath, the Australian underwater discovery Centre aims to be the worlds biggest natural marine Observatory, complete with an underwater trail and Underwater dining. Construction should start in the middle of next year, with the centre open by December 2022. Bustleton Jetty managers are aiming for more than 200,000 new visitors in 2023 bringing the total to more than 900,000.Bustleton Jetty Chairman Barry House says: "This is as authentic as it gets, because people are in the tank and the fish are looking in. By adding underwater dining, underwater sculptures, marine art and other features, this project will enhance Bustleton Jetty's 155-year-old experience." Mr House says that at its peak times, people are turned away from the current Observatory because you can only fit 44 people in each hour" In 2017 we started looking at how to make a visit to demand and after to feasibility studies a market research, determine that engaging our current unique Marine offering what's the best way to grow and meet our environmental goals" Jetty Chief Executive Lisa Shreeve Says the current underwater Observatory will become a marine research centre promoting clean oceans and feature public interaction with world-class research and laboratory to educate people about ocean climate change.Mr House claims that the construction of the new Australian underwater discovery Centre will create work for 200 people!'s ones operation thousands of jobs will be created over the coming years as cafés, hotels, service stations, retail stores, bus companies, trade agencies all prosper, returning some $200 million in economic benefit in Western Australia. "This is an exciting stage of the project, to get the feedback on the most attractive design that will be a catalyst for drawing people to Western Australia from all over the world, especially those who love the ocean,"​
Ashwicken Lake - Public consultation event
Following the initial public consultation online due to Covid restrictions, we are able to undertake (scheduled) face-to-face consultation at the Parish Council Hall. As a consequence of feedback from the initial events, postal forms and further survey work the masterplan has changed. The proposed staycation retreat no longer incorporates lodges along its southern boundary. Instead introduces the 'Water Lily' - a a floating island of 40-flatted units located in the southeast corner of Ashwicken Lake. Inspired by the water lily or lotus plant whose big leaves float on the water's surface to attract ample sunlight for photosynthesis, Baca adopts this shape to evoke serenity amongst its visitors and synthesise human wellbeing. Contrasting with the quieter setting of the private lodges, the Water Lily's iconic form provides a large amount of space between the leaves, creating a generous sunbathing terrace ideal for families seeking a replacement to an international pool-side holiday destination. This composition ensures all apartments have a clear view out on to the lake and the clustered nature of the design works to create an intimate courtyard at the centre for an ample, yet communal environment. "The Water Lily is a both architecture and a living sculpture. Imagine holidaying here? – it would be so refreshing, pure escapism and unlike anything else the UK has to offer. It's been an absolute joy to work on and wonderful that the Client helped has been involved at every step of the projects evolution" Baca director, Richard Coutts DESIGN CONCEPTS The approach to the resort will take guests through a landscaped sequence from their moment of arrival, where they'll leave their car behind in a park graced with rain gardens. Here, their experience of connection with nature, ecological diversity and wellbeing begins. A stroll through swales leads to a land bridge which connects lakeside with the clubhouse. This is the UK's first clubhouse on water, which sits at the heart of the resort. Distinctively designed, this exceptional building will comprise a spa, café/restaurant, and lakeside pool facilities as well as alfresco waterside dining. The clubhouse is encircled by 131 lodges, all located on or near the water's edge, and each with a mooring. Our masterplan arranges the lodges in clusters, interspersed with new planting, trees, follies and water taxi jettiesto create areas of different character across the resort. Alongside the existing woodland are 23 treehouses, which will provide additional accommodation. Water-based pursuits will include rowing, kayaking and stand-up paddle boarding (SUP) as well as opportunities for open water swimming. For those preferring to stay on land, tennis courts and areas for ball games and archery have also been designed into the landscape along with a climbing wall and children's play area. PLANNING SUBMISSIONThe full plans application is scheduled for submission in January 2021.​
Flood Resilient Homes - COMPLETE!
This week, we are delighted to share some photos of our newly constructed Flood Resilient Houses in Stratford-upon-Avon!.With this, we also bring you an article by STIR World which describes the implimented flood defence strategies and showcase some extra details. Excerpt from the article below:.'Their designs for 11-high quality homes have regenerated a brownfield flood-risk site that has laid inactive for over a decade, relieving the effects of inundation in an Environment Agency Flood Zone 2 and 3 designated area.' - STIR World.You can read the full article here:.https://www.stirworld.com/see-features-baca-architects-elevate-residences-above-flood-risked-site-in-stratford-uk.And view the project in full here:.Baca Architects - Flood Resilient Homes
The Clubhouse - Norfolk Luxury Wellness Resort
It's the time for the second post in the double-bill this week!As the month of November has seemingly passed faster than you say 'Norfolk Luxury Wellness Resort', we already find ourselves at the penultimate post of the series!Now, we bring you the Ashwicken Lake Clubhouse!Sitting within the perimeter of the lake and accessible by bridge, the clubhouse hosts a range of activities for holiday-goers and locals alike. Activities such as, yoga, swimming, sauna, massage, physio and luxury dining.The Clubhouse also features a deep decking area which people can use to sun-bath, jump into the lake or just explore the surrounding lake environment from different vantage points.One of the key-selling points of this Clubhouse is it's retractable swimming pool roof. On a beautiful summers day in Norfolk, the pool roof can be fully retracted so that pool-loungers can bask directly in the sun and swimmers can feel safe swimming directly 'in the middle of the lake'.Make sure to follow @bacaarchitects to see which typology will conclude our Luxury Wellness Resort series, next week! We promise, you won't be disappointed!Find out more about our Luxury Wellness Resort at:https://wickenwater.com/
Floating Villas - Norfolk Luxury Wellness Resort
The Baca Team have been busy recently! Stretched between the continents of North America and Oceania last week, we now return [much!] closer to home this week and find ourselves back in Norfolk.To catch-up with the Norfolk Luxury Wellness Resort series, this week we'll be having a double-bill!First up this week, we have the Floating Villas!Hosting two storeys, the first floor level is dedicated entirely to a luxurious living space, for a family of up to 6, to function comfortably with the back-drop of an elevated view out across the Ashwicken Lake that is suitable for any family occasion!A mix of single and double sized bedrooms occupy the lower level and benefit from a more intimate connection with the lake water-level - but rest-assured, these are 'Floating' Villas, so you needn't worry about any unexpected baths!Follow @bacaarchitects to see which typology we have to share with you from Ashwicken Lake next.Find out more about our Luxury Wellness Resort at:https://wickenwater.com/
Floating Lodges - Norfolk Luxury Wellness Resort
It's Week 2 of the 'Luxury Wellness Resort' @bacaarchitects Instagram series!This week we are sharing some images of our Floating Lodges.Similar to our 'Resilient Villas', which you can see from last weeks' post, the Floating Lodges feature a gable roof and host panoramic views out to the centre and across the Ashwicken Lake from the comfort of the warmly detailed and decorated interior living spaces.These Floating Lodges, arranged in clusters around the perimeter of the lake cater for groups of holiday-goers in parties requiring up to 3-Bedrooms.During the event of high rainfall or flood, these buildings rise and fall with the lake water level - meaning that whatever the weather outside you can be sure to stay dry inside!Follow @bacaarchitects to see which typology we have to share with you from Ashwicken Lake next week.Find out more about our Luxury Wellness Resort at:https://wickenwater.com/​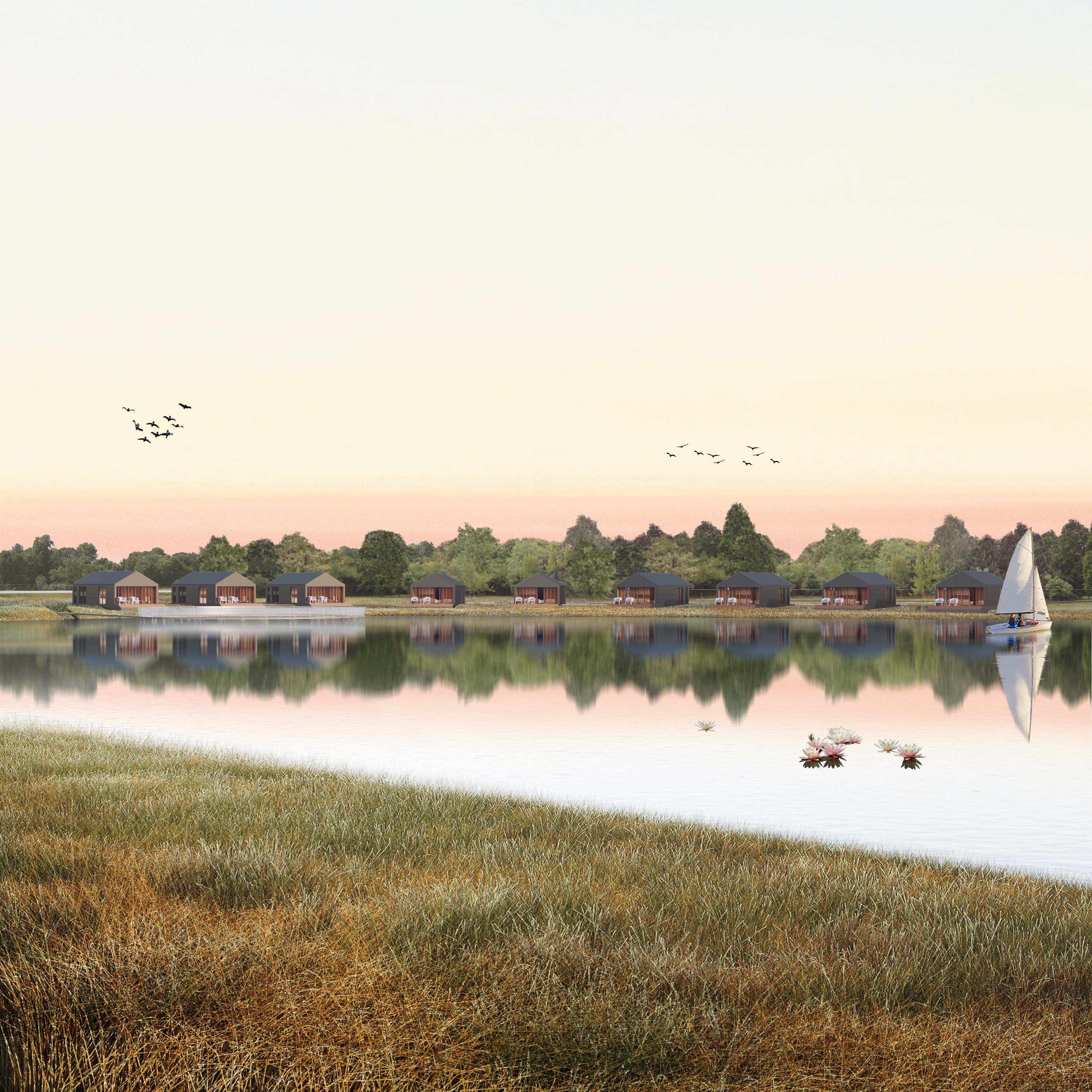 Resilient Villas - Norfolk Luxury Wellness Resort
The team at Baca Architects have wanted to share more images from our Luxury Wellness Resort project in Norwich for some time now.So we've decided to dedicate the whole month of November (and possibly beyond) to sharing some images of the different building typologies that will occupy the 'Ashwicken Lake'.Pictured this week are the 'Resilient Villas'!These villas are raised on stilts and located around the periphery of the lake. By raising the villas on stilts, in the event of a flood, water can pass underneath the building without causing harm to the villas or their inhabitants.Follow @bacaarchitects to see which typology we have to share with you from Ashwicken Lake next week.Find out more about our Luxury Wellness Resort at:https://wickenwater.com/​
The Ring - Norfolk Luxury Wellness Resort
With the clocks going back this week and the winter nights drawing in earlier, the Baca team have been collectively reminiscing about the warm hues of summer sunsets......and how well it compliments our Aquatecture!This image is of 'The Ring', one of the proposals for our latest Luxury Wellness Resort in Norfolk, more on this to follow.Find out more about our Luxury Wellness Resort at:https://wickenwater.com/​ Follow @bacaarchitects on Instagram to see more like this!