Hollybush Lakes, a New Scheme for New Hampshire
Baca Architects has submitted plans for a new £25million eco-sustainable leisure destination located around six man-made lakes on a 15.5-hectare site near Aldershot, Hampshire. "Hollybush Lakes" is to be transformed from a scrap metal breakers yard and gravel pit into a serene lakeside getaway destination, which accommodates both water-based and equestrian pursuits; complete with an aquatic sports centre, equestrian facilities and 20 floating lodges. The natural setting of the location will be restored, increasing its ecological diversity and the existing fishing facilities will be enhanced and the Blackwater Valley footpath which runs through the site will be re-opened to the public.News​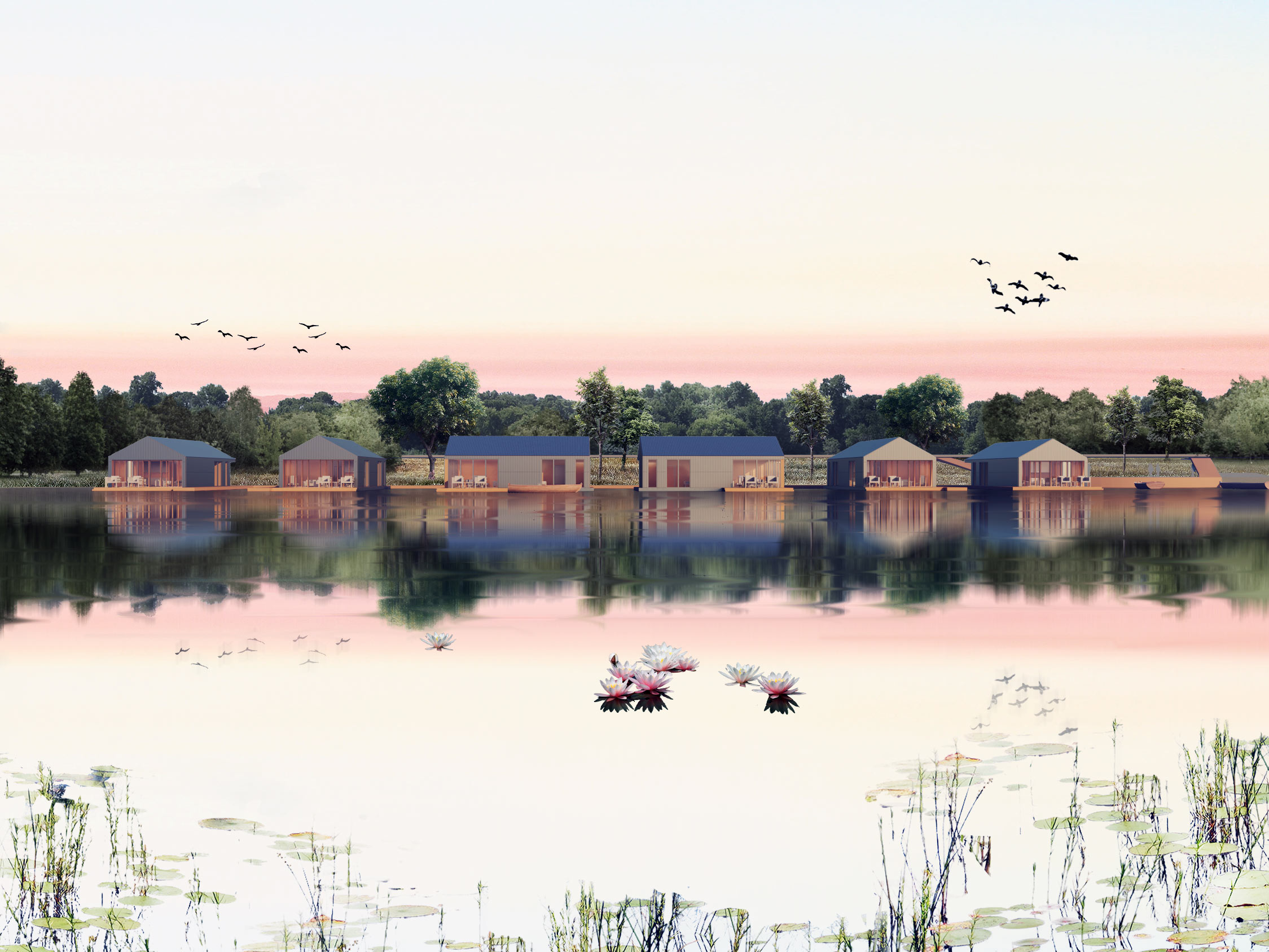 Ashwicken Lakes: Open for Public Consultation
Ashwicken Lakes now open for public consultations Norfolk Farm Leisure Limited is proposing to transform Ashwicken Lake, an unused quarry, into a unique eco-wellness resort. The £35m private investment into the local economy will transform 80 hectares of land at the old Wicken Quarry. Baca's proposals will comprise 154 floating and lakeside holiday lodges, treehouse accommodation, an on-water clubhouse and associated boat house. In order to clearly outline the draft proposals, Baca hosted an online public consultation webinar and Q&A event.The webinar gave attendees the opportunity to ask members of the project team any questions they had about the draft proposals recording. The webinar is available to watch here (https://wickenwater.com).​
Full Planning: New Apartment Building Proposal for a Hillside Location in Dover
Baca architects are excited to announce that full planning permission has been granted for our new apartment building proposal on a hillside location in Dover.The scheme will deliver 20 flats that provide a balanced mix of unit size: 1 bedroom - 2 person (50sqm), 2 bedroom 3 - person (61sqm) and 3B / 4P (74 m2) units.Locals expressed opinions that the proposals were of high quality, modern design and in keeping with the locality. The local community expressed a desire and demand for new high quality homes in the area.​
Big Announcement: First Images of Our New Lakes Eco-Wellness Resort
It is with great pleasure that we can now release the first images of our new unique eco-wellness resort centred on waterside living, water-based recreation and wellness.This development will see the lake re-imagined from a former sand extraction pit, into a unique destination where outstanding architectural elements will seamlessly combine with an enhanced natural landscape, to offer a memorable staycation as well as a leisure facility for local people.For further information/questions, use the link below to be directed to the project website.https://www.ashwickenlakeecoresort.com/​
Nearing Completion: Flood-Resilient Homes in Shipston-on-Stour
We might be slightly partial here at Baca, but with our Flood-Resilient Homes so close to completion, we can't help but be excited to see residents make homes of these houses in Shipston-on-Stour.​
Full Planning: Mixed-Use Lakes Leisure Resort in Hampshire​
Baca Architects are delighted to announce that 'Hollybush Lakes' in Hampshire has been submitted for full planning.The site houses six man-made lakes and will reconnect to the Blackwater Valley Footpath, its green space previously under-utilised and not open to the general public. The proposal offers the opportunity to restore the site back to nature for public enjoyment and ecological enhancement. The project aims to re-open the footpath for public use and encourage residents to enjoy the beauty of the lakeside with improved connectivity.The proposals include:An aquatic sports centre which offers water based activities such as kayaking, boating and a seasonal inflatable assault course alongside gym facilities and an elevated cafe.An equestrian centre, offers stabling, grazing and schooling facilities alongside overnight guest accommodation for a local riding school.Floating holiday accommodation within the site offers immersive lakeside holiday accommodation and fishing experiences for visiting guests and introduces 'eco-tourism' to the local area.​
A Paragraph 79 House That 'Floats' Above it's Own Sea View
Described by a local councilor as 'the ark' waiting to be buoyed by rising waters, 'Sea View' villa visually floats above the landscape, with panoramic views afforded to its new owners, over the Blackwater Estuary.'The Ark' is now taking shape. Foundations are in and preliminary prefabrication steel drawings are underway. We can't wait to see the huge cantilever soon!​
​104 Bedroom hotel in South Yorkshire
Baca have commenced designs for a new eco-friendly hotel and spa resort in South Yorkshire. The Tyram Lakes Hotel and Spa will offer a unique luxury experience where visitors get back to nature in a resort that will minimize its impact on the environment. The hotel is being considered with several site-specific renewable power and heat generation systems and will be 70% off grid. The resort will form a completely closed water system without connection to mains water. Director Richard Coutts said: "We are creating a hotel that is good for you and for the environment. It makes me feel good." The hotel provides 104 luxury rooms, fine dining restaurant, conferencing and meeting facilities, pool, superior spa and state-of-the-art gym, and picturesque party and wedding venue. Suites and a top floor bar provide panoramic views of the lakes and countryside beyond. Conferencing in the countryside will be a perfect space to free the mind and think those big ideas. The spa will feature an outdoor, and indoor swimming pool, six treatment rooms, and deep relaxation spaces. Guests will also be able to enjoy wild swimming in the lake. ​