Baca Director, Richard Coutts attended the launch of Flood-re's 'Build back better initiative' at the House of Commons. Build Back Better is an innovative new way of thinking about home flood insurance. The initiative means families are out of their homes for a fraction of the time and insurers can have the confidence that the properties they cover are more resilient to flood events meaning much lower future claims What Flood Re isFlood Re is a re-insurance scheme that began operation in 2016. It allows insurance companies to pool the potential costs of the higher risk to many properties by paying a special levy. Because Flood Re is a re-insurance scheme, it works with insurers rather than customers.The eligibility rules for Flood Re are however sometimes complex. The scheme excludes commercial properties as well as certain leasehold properties. It also generally excludes buildings constructed since 2009. This is to help dissuade developers from building on land at risk of flooding. Flood Re is due to end in 2039. By that time it aims to have paved the way to a free-market approach in which policy prices reflect risk. How it came aboutThere had been earlier agreements between the Government and the insurance industry to help manage the market. But more severe floods (such as in 2007) had led to large payouts and subsequent increases in prices. This situation threatened a failure of the market in many areas. Parliament set out general arrangements for Flood Re through the Water Act 2014. Performance so far and issues for the futureSince its launch, Flood Re has been able to report strong and clear benefits for most domestic customers in areas at risk. By 2019, for instance, four out of five households with a history of flood claims had seen prices drop by 50%. Flood Re has effectively stabilised the domestic flood insurance market. It now faces the challenge of helping to promote more sustainable approaches to flood prevention, resistance and resilience. These will ultimately be needed if the market is to be able to reflect risk. There is a paradox in this. If customers can buy cheaper flood insurance, they may be less concerned about taking wider action to manage flood risks. In addition, Flood Re doesn't cover commercial or all residential properties. The Government has tended to highlight industry-led solutions to those problems. After prolonged and repeated flooding events over the winter of 2019-20, the Government announced the launch of the Blanc review, which considered the level and adequacy of flood insurance in affected areas. The report from the review, published in November 2020, found "worrying" levels of coverage in Doncaster, particularly among tenants. It has called for better information and support for both owner-occupiers and tenants, as well as better monitoring of progress. Defra launched a consultation on amendments to the scheme in February 2021. This reiterates the importance of supporting resilience and proposes no changes for general eligibility.
Baca Architects update the 'Flood Resilient Design' chapter in the 6th Edition of the Metric Handbook
Baca Architects are honoured to update the chapter: Flood Resilient Design in the forthcoming 6th edition of the Metric Handbook. The metric handbook is … … the major handbook of planning and design information for architects and architecture students. Covering basic design data for all the major building types, it is the ideal starting point for any project. For each building type, the book outlines the basic design requirements and all of the principal dimensional data, whilst also providing succinct guidance on how to utilise the information and any comply with design regulations.As well as building types, the Metric Handbook deals with broader aspects of design such as materials, acoustics and lighting, and general design data on human dimensions and space requirements. The Metric Handbook provides an invaluable resource for solving everyday design and planning problems. The updated chapter will feature the newly completed Shipston Road Flood Resilient Multiple Unit Housing scheme in Stratford-Upon-Avon in the UK - which is in close proximity to William Shakespeare's birth-place! ​
Underwater Ocean Discovery Observatory - Australia Raising Awareness for Ocean Climate Change
Baca Architects have been appointed by marine contractor, Subcon as the Lead Architects for the Australian Underwater Discovery Centre (AUCD). The commission will deliver Australia's largest natural marine observatory (2km out at sea) at the end of Busselton Jetty, 2 hours south of Perth in Western Australia. Click to view the project page on our website here Three alternatives have been drawn up for the $30 million Australian underwater discovery Centre: The Cetacean Design reflects the shape of a whale, to raise its head over Geographe Bay. The Rock is inspired In shape and colour by Castle Rock in western Australia. And the Voyage mimics The silhouette and lines of a ship moored against the pierBustleton Jetty managers will formally reveal and present the choice of designs by Henderson based Subcon: Blue solutions on Monday, and the public is being encouraged to vote for their favourite. Subcon: Blue Solutions are a marine contracting company specializing in building offshore windfarm and artificial reefs is joined by CoreMarine Engineering; the team that delivered Snoetta's "under" restaurant. But what ever appears on the surface, underneath, the Australian underwater discovery centre aims to be the worlds biggest natural marine Observatory, complete with an underwater trail and Underwater dining. Construction should start in the middle of next year, with the centre open by December 2022. Bustleton Jetty managers are aiming for more than 200,000 new visitors in 2023 bringing the total to more than 900,000.Bustleton Jetty Chairman Barry House says: "This is as authentic as it gets, because people are in the tank and the fish are looking in. By adding underwater dining, underwater sculptures, marine art and other features, this project will enhance Bustleton Jetty's 155-year-old experience." Mr House says that at its peak times, people are turned away from the current Observatory because you can only fit 44 people in each hour" In 2017 we started looking at how to make a visit to demand and after to feasibility studies a market research, determine that engaging our current unique Marine offering what's the best way to grow and meet our environmental goals" Jetty Chief Executive Lisa Shreeve Says the current underwater Observatory will become a marine research centre promoting clean oceans and feature public interaction with world-class research and laboratory to educate people about ocean climate change.Mr House claims that the construction of the new Australian underwater discovery Centre will create work for 200 people!'s ones operation thousands of jobs will be created over the coming years as cafés, hotels, service stations, retail stores, bus companies, trade agencies all prosper, returning some $200 million in economic benefit in Western Australia. "This is an exciting stage of the project, to get the feedback on the most attractive design that will be a catalyst for drawing people to Western Australia from all over the world, especially those who love the ocean,"​
Hollybush Lakes, a New Scheme for New Hampshire
Baca Architects has submitted plans for a new £25million eco-sustainable leisure destination located around six man-made lakes on a 15.5-hectare site near Aldershot, Hampshire. "Hollybush Lakes" is to be transformed from a scrap metal breakers yard and gravel pit into a serene lakeside getaway destination, which accommodates both water-based and equestrian pursuits; complete with an aquatic sports centre, equestrian facilities and 20 floating lodges. The natural setting of the location will be restored, increasing its ecological diversity and the existing fishing facilities will be enhanced and the Blackwater Valley footpath which runs through the site will be re-opened to the public.News​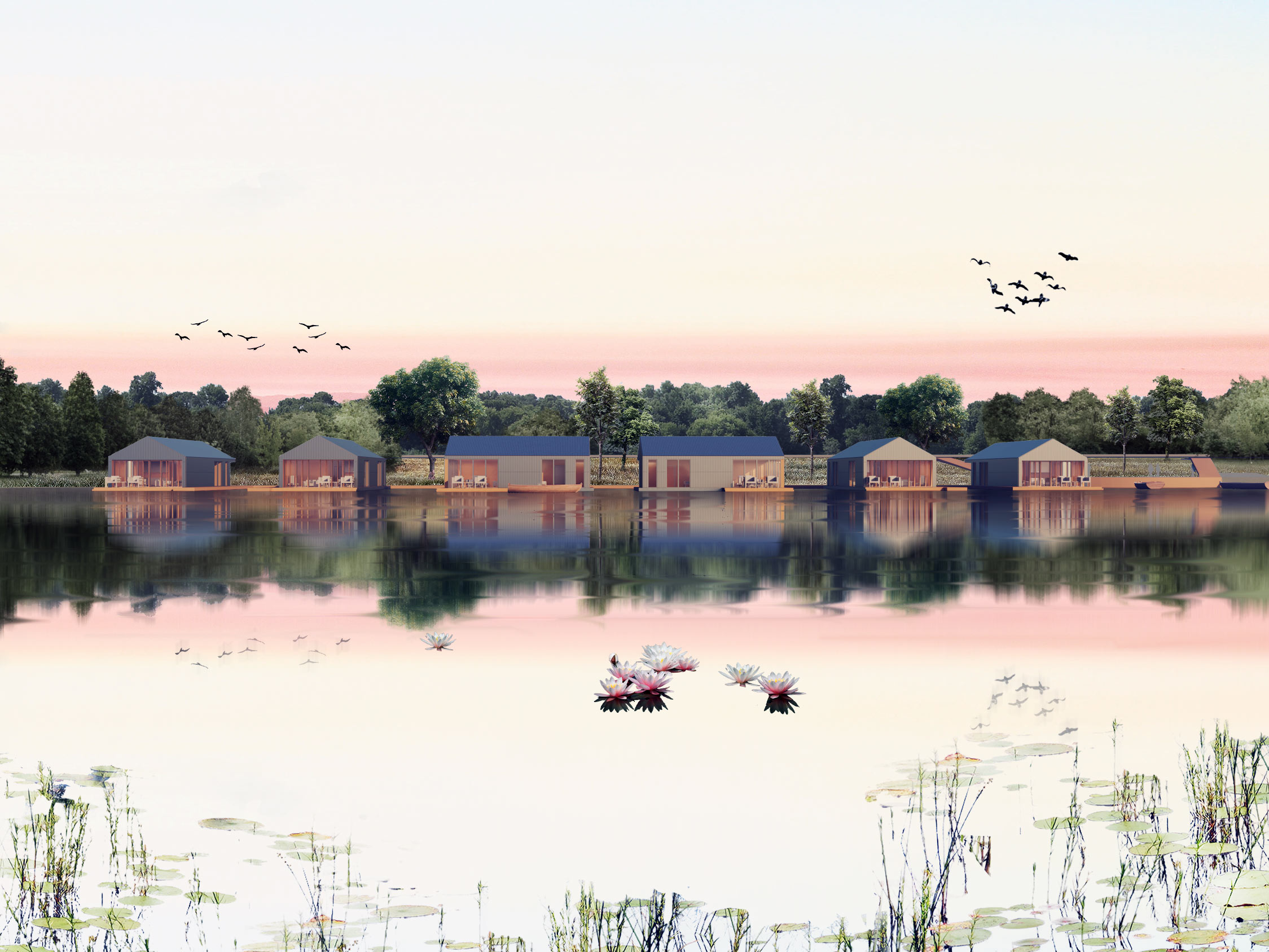 Ashwicken Lakes: Open for Public Consultation
Ashwicken Lakes now open for public consultations Norfolk Farm Leisure Limited is proposing to transform Ashwicken Lake, an unused quarry, into a unique eco-wellness resort. The £35m private investment into the local economy will transform 80 hectares of land at the old Wicken Quarry. Baca's proposals will comprise 154 floating and lakeside holiday lodges, treehouse accommodation, an on-water clubhouse and associated boat house. In order to clearly outline the draft proposals, Baca hosted an online public consultation webinar and Q&A event.The webinar gave attendees the opportunity to ask members of the project team any questions they had about the draft proposals recording. The webinar is available to watch here (https://wickenwater.com).​
Full Planning: New Apartment Building Proposal for a Hillside Location in Dover
Baca architects are excited to announce that full planning permission has been granted for our new apartment building proposal on a hillside location in Dover.The scheme will deliver 20 flats that provide a balanced mix of unit size: 1 bedroom - 2 person (50sqm), 2 bedroom 3 - person (61sqm) and 3B / 4P (74 m2) units.Locals expressed opinions that the proposals were of high quality, modern design and in keeping with the locality. The local community expressed a desire and demand for new high quality homes in the area.​
Big Announcement: First Images of Our New Lakes Eco-Wellness Resort
It is with great pleasure that we can now release the first images of our new unique eco-wellness resort centred on waterside living, water-based recreation and wellness.This development will see the lake re-imagined from a former sand extraction pit, into a unique destination where outstanding architectural elements will seamlessly combine with an enhanced natural landscape, to offer a memorable staycation as well as a leisure facility for local people.For further information/questions, use the link below to be directed to the project website.https://www.ashwickenlakeecoresort.com/​
Nearing Completion: Flood-Resilient Homes in Shipston-on-Stour
We might be slightly partial here at Baca, but with our Flood-Resilient Homes so close to completion, we can't help but be excited to see residents make homes of these houses in Shipston-on-Stour.​