Concept Sketches: The Clubhouse
From idea to conception, here is how our 'Clubhouse' went from pen, to paper, to [soon-to-be] reality for our luxury leisure wellness spa and resort in Norfolk. You can see more initial sketches of the Clubhouse design from Baca Creative Director: Robert Pattison, and see our latest drawings by following us on Instagram: https://www.instagram.com/bacaarchitects/ To keep up with news on the Wickenhttps://wickenwater.com/
New E-Magazine: Property Flood Resilience
Out this week, the newly updated version Mary Dhonau's E-Magazine 'Property Flood Resilience', is now available online. The magazine highlights the real value of the practical steps people can take to reduce the impact of flooding on their homes and businesses. You can find the magazine at the link below: https://edition.pagesuite.com/html5/reader/production/default.aspx?pubname=&pubid=b3dddc3f-8c89-4711-86f3-4f0f9ce9a713
On-Site Update: Seaview Cantilever!
We at Baca are very excited to see our 'Seaview' flood-resilient home being brought to life. Above, is a recent on-site photograph- what a cantilever!​
Hollybush Lakes, a New Scheme for New Hampshire
Baca Architects has submitted plans for a new £25million eco-sustainable leisure destination located around six man-made lakes on a 15.5-hectare site near Aldershot, Hampshire. "Hollybush Lakes" is to be transformed from a scrap metal breakers yard and gravel pit into a serene lakeside getaway destination, which accommodates both water-based and equestrian pursuits; complete with an aquatic sports centre, equestrian facilities and 20 floating lodges. The natural setting of the location will be restored, increasing its ecological diversity and the existing fishing facilities will be enhanced and the Blackwater Valley footpath which runs through the site will be re-opened to the public.News​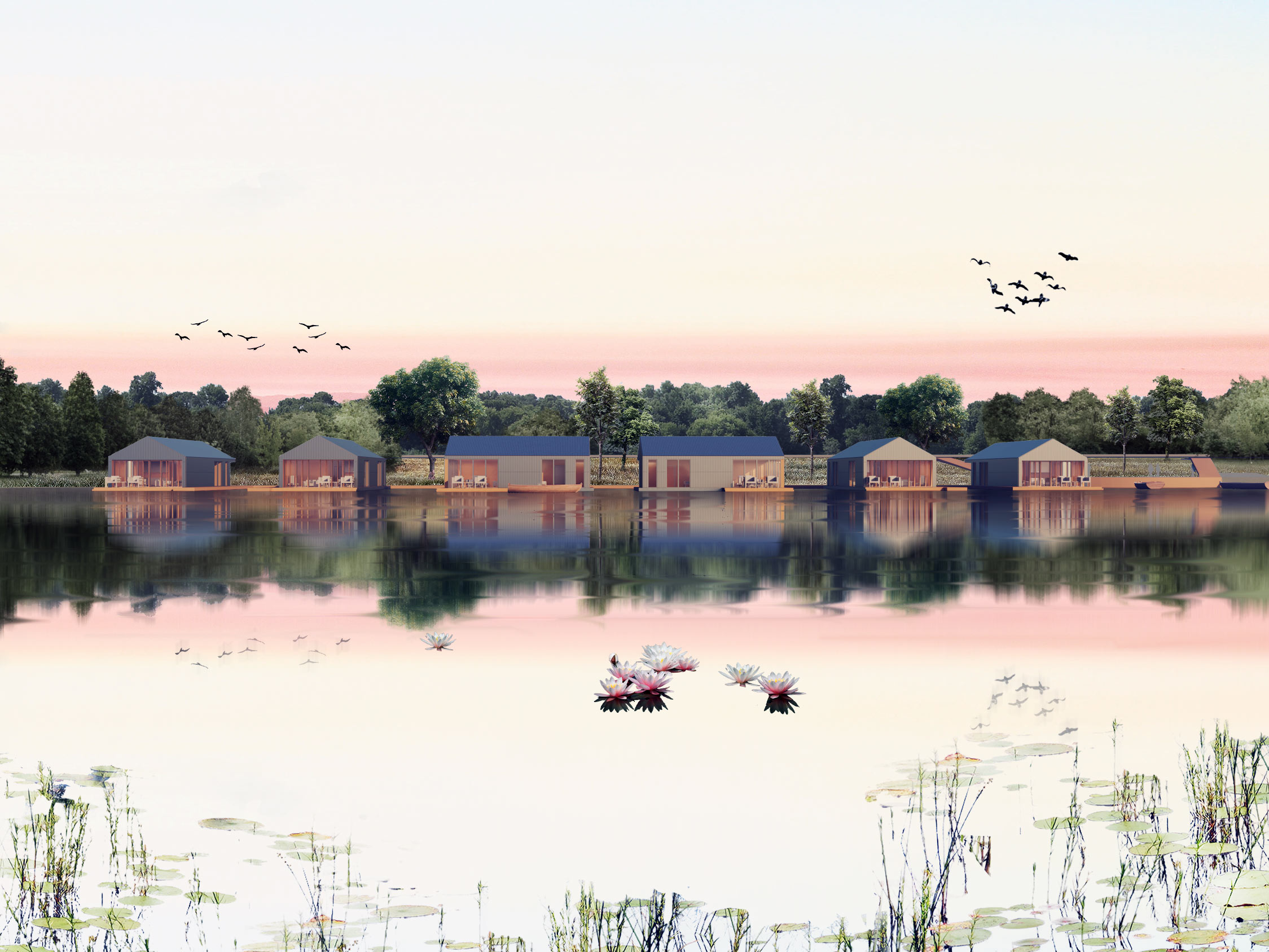 Ashwicken Lakes: Open for Public Consultation
Ashwicken Lakes now open for public consultations Norfolk Farm Leisure Limited is proposing to transform Ashwicken Lake, an unused quarry, into a unique eco-wellness resort. The £35m private investment into the local economy will transform 80 hectares of land at the old Wicken Quarry. Baca's proposals will comprise 154 floating and lakeside holiday lodges, treehouse accommodation, an on-water clubhouse and associated boat house. In order to clearly outline the draft proposals, Baca hosted an online public consultation webinar and Q&A event.The webinar gave attendees the opportunity to ask members of the project team any questions they had about the draft proposals recording. The webinar is available to watch here (https://wickenwater.com).​
Shipston Road Complete – New Flood Resilient Market Homes
Construction is complete for our latest residential project which is compromised of 11 high-quality homes located within a flood plain, designated by the Environment Agency (EA), as Flood Zones 2 and 3. Flood zone 3 means it has a greater than 1% annual probability of flooding. The development is set to become the first of its kind in the UK has helped to establish new flood mitigation measures with the EA. Housing developer Holloway Properties commented:"We approached Baca Architects to help us unlock a brownfield site that was at flood risk on the main road into Stratford upon Avon. Several developers before us had tried and failed and we thought that with Baca's expertise they could help us find a solution. Now built it has exceeded our expectations and is attracted a 10-15% above the market value". A gently ramped road provides access from the middle of the site to the raised levels of the houses and an elevated pedestrian and cycle path to the west, provide a through-route across the site which acts as a safe haven during flood events. The houses are built on raised piles with a floodable zone below which is guarded from debris by louvered screens. The green space remaining is landscaped, rain gardens and swales help to retain and control water run-off. View the project page here: Flood Resilient Homes​
Nearing Completion: Flood-Resilient Homes in Shipston-on-Stour
We might be slightly partial here at Baca, but with our Flood-Resilient Homes so close to completion, we can't help but be excited to see residents make homes of these houses in Shipston-on-Stour.​
Plans have been submitted for a innovative new house in Nottinghamshire. The curvaceous house has been commissioned by an affluent couple seeking a new home that is "luxurious, environmentally-friendly and playful." It was a design challenge we relished. The client presented our office with a simple proposition: 'Why live in a box? Our cars are streamlined, soft in form and luxurious – why can't our new house follow the same philosophy?' From this unusual brief grew an exuberant design for a 21st century country house: a hidden retreat, designed for entertaining, and set within and around a beautiful landscaped garden. The vision is a sculptural property that stretches the boundaries of design, structure, and environmental thinking. It achieves a combination often difficult to resolve: a home that is ultra low in energy use but also high in aesthetic aspiration and quality. Baca are hoping the house, titled Serenity, will push the boundaries of environmental and architectural design; develop technological innovations that will inform future buildings in the UK and produce a beautiful country house that will be enjoyed by generations to come.​