Uunderwater Ocean Discovery Observatory - Australia Raising Awareness for Ocean Climate Change
Baca Architects have been appointed by marine contractor, Subcon as the Lead Architects for the Australian Underwater Discovery Centre (AUCD). The commission will deliver Australia's largest natural marine observatory (2km out at sea) at the end of Busselton Jetty, 2 hours south of Perth in Western Australia. Click to view the project page on our website here Three alternatives have been drawn up for the $30 million Australian underwater discovery Centre: The Cetacean Design reflects the shape of a whale, to raise its head over Geographe Bay. The Rock is inspired In shape and colour by Castle Rock in western Australia. And the Voyage mimics The silhouette and lines of a ship moored against the pierBustleton Jetty managers will formally reveal and present the choice of designs by Henderson based Subcon: Blue solutions on Monday, and the public is being encouraged to vote for their favourite. Subcon: Blue Solutions are a marine contracting company specializing in building offshore windfarm and artificial reefs is joined by CoreMarine Engineering; the team that delivered Snoetta's "under" restaurant.But what ever appears on the surface, underneath, the Australian underwater discovery Centre aims to be the worlds biggest natural marine Observatory, complete with an underwater trail and Underwater dining. Construction should start in the middle of next year, with the centre open by December 2022. Bustleton Jetty managers are aiming for more than 200,000 new visitors in 2023 bringing the total to more than 900,000.Bustleton Jetty Chairman Barry House says: "This is as authentic as it gets, because people are in the tank and the fish are looking in. By adding underwater dining, underwater sculptures, marine art and other features, this project will enhance Bustleton Jetty's 155-year-old experience." Mr House says that at its peak times, people are turned away from the current Observatory because you can only fit 44 people in each hour" In 2017 we started looking at how to make a visit to demand and after to feasibility studies a market research, determine that engaging our current unique Marine offering what's the best way to grow and meet our environmental goals" Jetty Chief Executive Lisa Shreeve Says the current underwater Observatory will become a marine research centre promoting clean oceans and feature public interaction with world-class research and laboratory to educate people about ocean climate change.Mr House claims that the construction of the new Australian underwater discovery Centre will create work for 200 people!'s ones operation thousands of jobs will be created over the coming years as cafés, hotels, service stations, retail stores, bus companies, trade agencies all prosper, returning some $200 million in economic benefit in Western Australia. "This is an exciting stage of the project, to get the feedback on the most attractive design that will be a catalyst for drawing people to Western Australia from all over the world, especially those who love the ocean,"​
The Brit List: 'Class of 2020'
Baca Director, Richard Coutts, has been officially selected for the '2020 Brit List'. Each year, Hotel Designs unveils The Brit List, a publication that lists the top 25 designers, top 25 architects and top 25 hoteliers who are operating in Britain.​ For more than four years now, The Brit List Awards has shone the spotlight on the designers, architects and hoteliers who are proving to be trendsetters on the international hotel design scene. The Brit List wrote:Designer of the UK's first amphibious house, Richard Coutts recently featured on the Channel 5 documentary entitled "Sinking Cities – The Great Flood of London: Environmental Challenges, Food and Floating", which referenced Aquatecture (architecture on water) and the need for consideration to be given to intelligent innovative ways of living by optimising water as a resource. From concept right through to completion, BACA Architects, founded and led by the talented Richard Coutts, has been a key collaborator and an inspiration for Tyram Lakes.Tyram is so much more than a hotel, spa and resort. It shelters uncompromised luxury within an eco-friendly and sustainable environment. BACA's holistic approach is helping to create an environmentally-centred paradise from woodland and quarry pits, fishing and watersport lakes and an abandoned pub named William de Lindholme. See the full Brit List 'Class of 2020' at this link:Meet The Brit List Architects of 2020 • Hotel Designs
Ashwicken Lake - Public consultation event
Following the initial public consultation online due to Covid restrictions, we are able to undertake (scheduled) face-to-face consultation at the Parish Council Hall. As a consequence of feedback from the initial events, postal forms and further survey work the masterplan has changed. The proposed staycation retreat no longer incorporates lodges along its southern boundary. Instead introduces the 'Water Lily' - a a floating island of 40-flatted units located in the southeast corner of Ashwicken Lake. Inspired by the water lily or lotus plant whose big leaves float on the water's surface to attract ample sunlight for photosynthesis, Baca adopts this shape to evoke serenity amongst its visitors and synthesise human wellbeing. Contrasting with the quieter setting of the private lodges, the Water Lily's iconic form provides a large amount of space between the leaves, creating a generous sunbathing terrace ideal for families seeking a replacement to an international pool-side holiday destination. This composition ensures all apartments have a clear view out on to the lake and the clustered nature of the design works to create an intimate courtyard at the centre for an ample, yet communal environment. "The Water Lily is a both architecture and a living sculpture. Imagine holidaying here? – it would be so refreshing, pure escapism and unlike anything else the UK has to offer. It's been an absolute joy to work on and wonderful that the Client helped has been involved at every step of the projects evolution" Baca director, Richard Coutts DESIGN CONCEPTS The approach to the resort will take guests through a landscaped sequence from their moment of arrival, where they'll leave their car behind in a park graced with rain gardens. Here, their experience of connection with nature, ecological diversity and wellbeing begins. A stroll through swales leads to a land bridge which connects lakeside with the clubhouse. This is the UK's first clubhouse on water, which sits at the heart of the resort. Distinctively designed, this exceptional building will comprise a spa, café/restaurant, and lakeside pool facilities as well as alfresco waterside dining. The clubhouse is encircled by 131 lodges, all located on or near the water's edge, and each with a mooring. Our masterplan arranges the lodges in clusters, interspersed with new planting, trees, follies and water taxi jettiesto create areas of different character across the resort. Alongside the existing woodland are 23 treehouses, which will provide additional accommodation. Water-based pursuits will include rowing, kayaking and stand-up paddle boarding (SUP) as well as opportunities for open water swimming. For those preferring to stay on land, tennis courts and areas for ball games and archery have also been designed into the landscape along with a climbing wall and children's play area. PLANNING SUBMISSIONThe full plans application is scheduled for submission in January 2021.​
TALK: Next Steps for Flood and Coastal Erosion
Tomorrow, Richard Coutts will be presenting alongside Emma Boyd, Chair of the Environment Agency to discuss the "Next steps for flood and coastal erosion risk management"​. This conference is examining priorities and next steps for flood and coastal erosion risk management, in the context of the Government's long-term plan to tackle the risks of flooding and coastal erosion, and the Environment Agency's National Flood and Coastal Erosion Risk Management Strategy for England. The discussion is bringing stakeholders together with key policy officials who are due to attend from Defra; BEIS; the Cabinet Office; DfT; MHCLG; the ORR; Ofwat; the NAO; The Scottish Government; and the Welsh Government. The conference starts at 9am, you can book your place here: https://www.westminsterforumprojects.co.uk/book/Flood-and-coastal-erosion-risk-management
New E-Magazine: Property Flood Resilience
Out this week, the newly updated version Mary Dhonau's E-Magazine 'Property Flood Resilience', is now available online. The magazine highlights the real value of the practical steps people can take to reduce the impact of flooding on their homes and businesses. You can find the magazine at the link below: https://edition.pagesuite.com/html5/reader/production/default.aspx?pubname=&pubid=b3dddc3f-8c89-4711-86f3-4f0f9ce9a713
New Baca Website Up and Running
The Baca website has undergone a complete transformation with an all new look and feel. Each page of the website has been carefully curated to showcase the best projects Baca have completed since inception in 2009. The new home page now features a highlight reel, and user-friendly and interface which allows you to easily navigate through project pages and browse different categories, such as our new growing leisure and hospitality portfolio. Visit the new site here and take a look around.​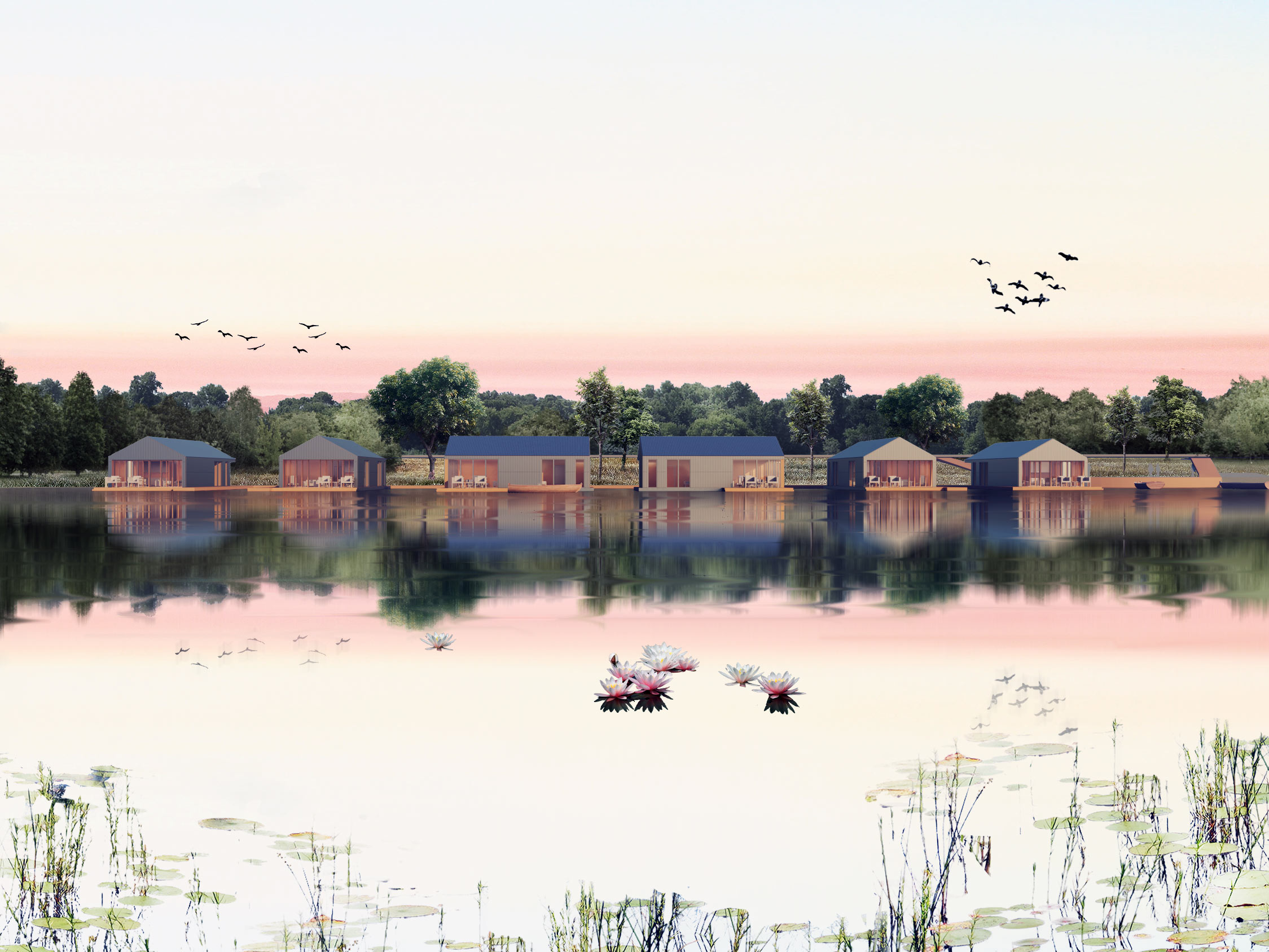 Ashwicken Lakes: Open for Public Consultation
Ashwicken Lakes now open for public consultations Norfolk Farm Leisure Limited is proposing to transform Ashwicken Lake, an unused quarry, into a unique eco-wellness resort. The £35m private investment into the local economy will transform 80 hectares of land at the old Wicken Quarry. Baca's proposals will comprise 154 floating and lakeside holiday lodges, treehouse accommodation, an on-water clubhouse and associated boat house. In order to clearly outline the draft proposals, Baca hosted an online public consultation webinar and Q&A event.The webinar gave attendees the opportunity to ask members of the project team any questions they had about the draft proposals recording. The webinar is available to watch here (https://wickenwater.com).​
Shipston Road Complete – New Flood Resilient Market Homes
Construction is complete for our latest residential project which is compromised of 11 high-quality homes located within a flood plain, designated by the Environment Agency (EA), as Flood Zones 2 and 3. Flood zone 3 means it has a greater than 1% annual probability of flooding. The development is set to become the first of its kind in the UK has helped to establish new flood mitigation measures with the EA. Housing developer Holloway Properties commented:"We approached Baca Architects to help us unlock a brownfield site that was at flood risk on the main road into Stratford upon Avon. Several developers before us had tried and failed and we thought that with Baca's expertise they could help us find a solution. Now built it has exceeded our expectations and is attracted a 10-15% above the market value". A gently ramped road provides access from the middle of the site to the raised levels of the houses and an elevated pedestrian and cycle path to the west, provide a through-route across the site which acts as a safe haven during flood events. The houses are built on raised piles with a floodable zone below which is guarded from debris by louvered screens. The green space remaining is landscaped, rain gardens and swales help to retain and control water run-off. View the project page here: Flood Resilient Homes​