New E-Magazine: Property Flood Resilience
Out this week, the newly updated version Mary Dhonau's E-Magazine 'Property Flood Resilience', is now available online. The magazine highlights the real value of the practical steps people can take to reduce the impact of flooding on their homes and businesses. You can find the magazine at the link below: https://edition.pagesuite.com/html5/reader/production/default.aspx?pubname=&pubid=b3dddc3f-8c89-4711-86f3-4f0f9ce9a713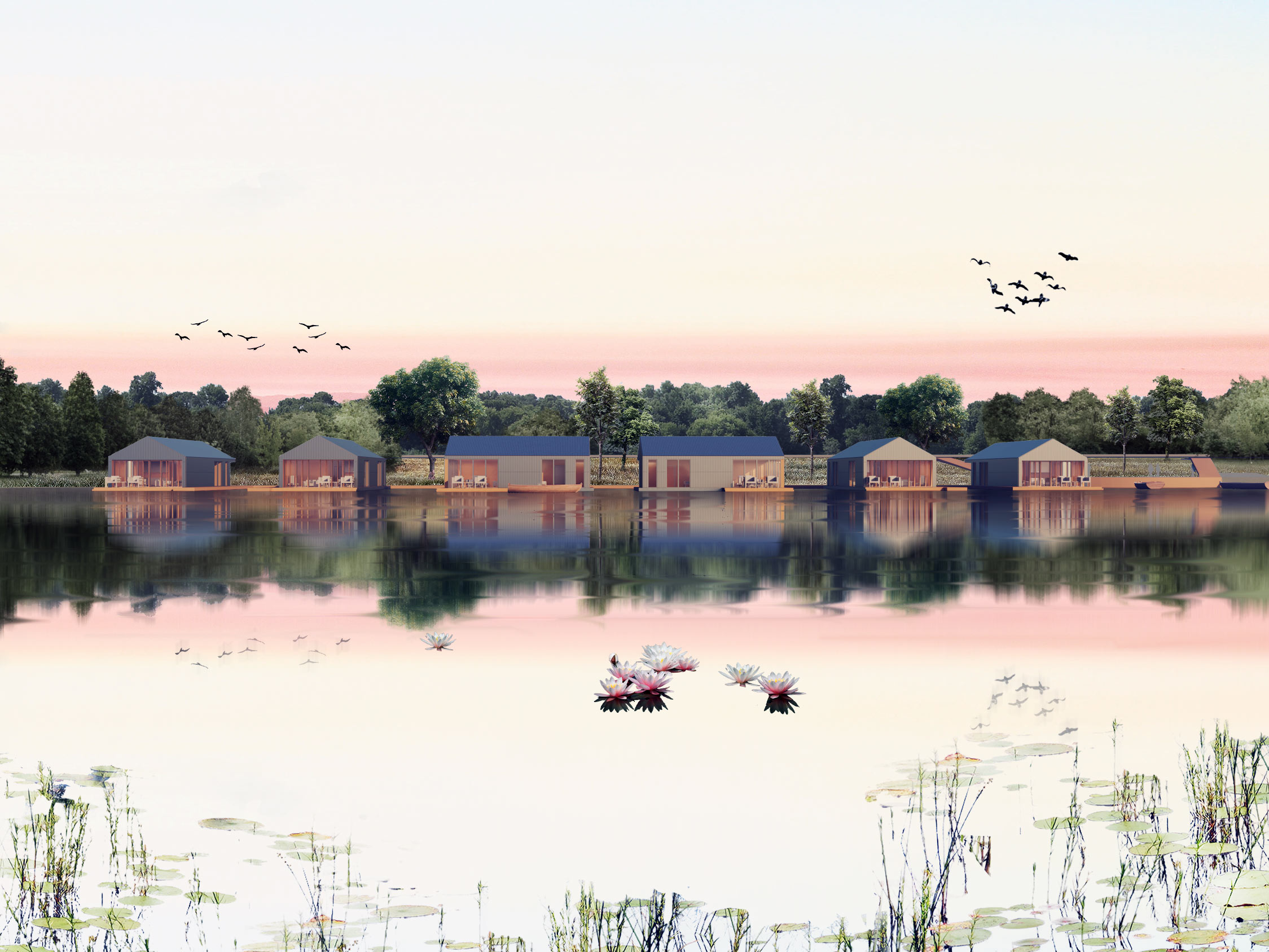 Ashwicken Lakes: Open for Public Consultation
Ashwicken Lakes now open for public consultations Norfolk Farm Leisure Limited is proposing to transform Ashwicken Lake, an unused quarry, into a unique eco-wellness resort. The £35m private investment into the local economy will transform 80 hectares of land at the old Wicken Quarry. Baca's proposals will comprise 154 floating and lakeside holiday lodges, treehouse accommodation, an on-water clubhouse and associated boat house. In order to clearly outline the draft proposals, Baca hosted an online public consultation webinar and Q&A event.The webinar gave attendees the opportunity to ask members of the project team any questions they had about the draft proposals recording. The webinar is available to watch here (https://wickenwater.com).​
Shipston Road Complete – New Flood Resilient Market Homes
Construction is complete for our latest residential project which is compromised of 11 high-quality homes located within a flood plain, designated by the Environment Agency (EA), as Flood Zones 2 and 3. Flood zone 3 means it has a greater than 1% annual probability of flooding. The development is set to become the first of its kind in the UK has helped to establish new flood mitigation measures with the EA. Housing developer Holloway Properties commented:"We approached Baca Architects to help us unlock a brownfield site that was at flood risk on the main road into Stratford upon Avon. Several developers before us had tried and failed and we thought that with Baca's expertise they could help us find a solution. Now built it has exceeded our expectations and is attracted a 10-15% above the market value". A gently ramped road provides access from the middle of the site to the raised levels of the houses and an elevated pedestrian and cycle path to the west, provide a through-route across the site which acts as a safe haven during flood events. The houses are built on raised piles with a floodable zone below which is guarded from debris by louvered screens. The green space remaining is landscaped, rain gardens and swales help to retain and control water run-off. View the project page here: Flood Resilient Homes​
The Brit List Awards 2020
We've been busy over the last few weeks and our efforts are being rewarded!This week, we've been informed that we've been shortlisted for The Brit List 2020 Awards for Hotel Design.The shortlisted project is for Tyram Lakes' Hotel & Spa which is set in the heart of the Humberside Peatlands, Hatfield Moor and the National Nature Reserve.The Tyram Lakes Hotel & Spa delivers 104 luxury rooms, fine dining restaurant, conferencing and meeting facilities, pool, superior spa and a picturesque party and wedding venue.As you cross the threshold onto this spectacular site you immediately begin to get the sense of its natural beauty that becomes increasingly apparent the further you explore. This graceful natural habitat is made up of 65 acres of lakes and 100 acres of woodland becoming the first luxury resort of its kind in the UK.You can find out more about the Tyram Lakes Hotel & Spa at their website:www.tyramlakes.co.uk
This Week: Baca Office Holidays!
Certainly a holiday season like never-before!This week, some of the Aquatects at Baca have taken time to reconnect with their local waters.
Big Announcement: First Images of Our New Lakes Eco-Wellness Resort
It is with great pleasure that we can now release the first images of our new unique eco-wellness resort centred on waterside living, water-based recreation and wellness.This development will see the lake re-imagined from a former sand extraction pit, into a unique destination where outstanding architectural elements will seamlessly combine with an enhanced natural landscape, to offer a memorable staycation as well as a leisure facility for local people.For further information/questions, use the link below to be directed to the project website.https://www.ashwickenlakeecoresort.com/​
In Memoriam: Manchester Memorial
Shortlisted design proposal for the May 22 Terror Attack Memorial as selected by Manchester CouncilCollaboration between: Sheffield University Alumni of Baca Architects and Ralph Gunson ParkerAnimation by Ralph Gunson Parkerxt
VE Day: 75 Years of Remembrance
​Marking 75 years since the Allies accepted the unconditional surrender of all opposition forces, this VE-Day we remember those brave soldiers of the Second World War whom paid the ultimate sacrifice for our freedom. Though we cannot participate in parades and remember this day in the conventional ways of years before, we do our best to remember this historic day from our homes. 'They shall not grow old, as we that are left to grow old: Age shall not weary them, nor the years condemn. At the going down of the sun in the morning, we will remember them.' https://www.youtube.com/watch?v=NEavcsrMoMw Attached: Dover Commonwealth War Memorial, commemorating WW1 and WW2 Project Credits: Baca Architects + Craft:Pegg, Urban Council, WSP, Britton McGrath Client: Dover District Council